Laura's Corner
July 2023 newsletter for Laura
Hey Fabric and Retreat Friends!
With the end of June, comes the end of our major renovation at our Retreat Center. Old siding was replaced with blown-on insulation, OSB, Tyvek, and new siding. Each of these items alone will make it quieter and more energy efficient; all together will (hopefully) be amazing!
Unfortunately, Mother Nature brought in a storm Thursday, June 29, and we had to postpone our village fireworks until next week. They will be held in Showboat Park, Thursday, July 6, gates open at 4pm with fireworks beginning about 10pm. Gate admission for cars is $5 each, walk-ins are free.
Now that the hot weather is here, I will be inside in the air conditioning. If you invite me for a cookout, don't take it personal when I don't come. It is hibernation season for me.
Enjoy a safe holiday weekend! Hopefully, you have a four-day weekend to relax!
Too warm for me,
Laura G
---
Tamara's Tidbits
Hello friends!

Over the next week we will be emailing our November Groups their reservation packets. As always, if you aren't able to make it this year or would not like to keep your reservation, please let us know so that we can open it up to a new group. I have quite the waiting list!
Hope you all have a wonderful and safe 4th!
Tamara

---
Selena's Scoop
Finally, warm weather and a holiday weekend. How many of you will be spending time relaxing and enjoying an extended weekend, I know I will be. Holiday weekends generally mean BBQ's and potlucks. It can be so hard to come up with a passing dish that is different from the norm. I think this is sure to be a crowd pleaser as its refreshing and sweet but not too sweet.
Fruit Salsa
Ingredients
2 kiwi fruits, peeled and diced
2 Golden Delicious apples – peeled, cored and diced
8 oz raspberries
1 (16 oz) carton of strawberries, diced
2 tbsp white sugar
1 tbsp brown sugar
2 tbsp fruit preserves, any flavor
In a large bowl, thoroughly mix kiwis, apples, raspberries, strawberries, white sugar, brown sugar, and fruit preserves. I like to serve this with cinnamon tortilla chips or cinnamon graham crackers. You could make your own chips but why do that when you can buy them and they're delicious.
---
Michelle's Material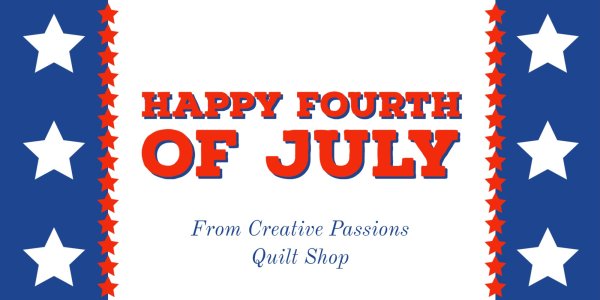 Happy 4th of July from all of us here at Creative Passions Quilt Shop! We will be closed July 1st - 4th, our hours will resume on July 5th at 11am.
In honor of the holiday, we are having a sale on all of our Patriotic Fabrics. We have everything from Yardage, Kits, Panels, Precuts and Fat Quarter Bundles all 20% off!! Click HERE
We wish you all a safe and happy holiday weekend!
---
Retreat Office and Quilt Shop Hours
We will be out of the office and Quilt Shop Saturday, Sunday, Monday and Tuesday, returning your calls in both on Wednesday. If you are in a building and need help, please leave a message. Laura will return your call immediately.
---
Retreat Availability
During summer months, we have quite a few openings. If your weekend plans change, get rained out or otherwise, you can call to see if we have availability for last-minute reservations!
July 7-9
CP2 - 24 spots

3B - for a small group up to 4

CPRC16 - 16 spots

Suite Q - for a small group up to 4
July 10-13
3B - for a small group up to 4

Suites B, C, and Q - each for a small group up to 4
July 14-16
July 17-20
July 21-23
CP1 - 13 spots

CPRC16 - 16 spots
July 24-27
July 28-30
---
Introducing:
Lynelle - Quilt Shop Sample Maker
"Hi - I am new to sewing for the Creative Passions quilt shop but a long time guest at the retreat centers, starting at CP1 circa 2006. I have been sewing since I was about 9 years old but favor quilting and have been a quilter for about 30 years. Love all aspects of quilting: selecting fabric, cutting, piecing, putting it all together, quilting and binding. Finally got my "dream job" after retirement from the health care industry. My husband and I love to travel and I have been to all 50 states in the US and several countries in Europe. I love to collect fabric from wherever we visit and always on the look-out for quilt shops. In my "spare time", I am an avid reader and walk, bike ride (in the summer months) and swim."
---
Local Events & News
Thursday July 6 - Fireworks at Showboat Park, $5 per vehicle
Saturday July 8 - Downtown Chesaning Car Show 10am-3pm
Saturday July 8 and Sunday July 9 - Chesaning Sportplane Association Dawn Patrol Weekend
Craft Show on Sat 10am-3pm, Sunday 7am-1pm

Pancake Breakfast on Sunday 7am-11am. Adults $10, Kids 6-12 $5, children 5 and under eat FREE
Saturday July 15 - Chesaning Car Cruze on Broad St.
Friday July 21 - Movies on Broad presented by Broad Street Events. "The Princess Bride" in the Ace Parking lot. Movie starts at dusk. Movie is free, concessions available for purchase
---
New to Chesaning!
Guests have been asking us for YEARS when our small town is going to get a coffee shop. If you don't already know, we now have TWO!
Riverfront Grille added a Drive-Thru Coffee Shop to their restaurant and offers a variety of drinks, sandwiches, baked goods and more.
Big Rock Coffee recently opened its doors right by the Showboat Restaurant. They have created a beautiful and relaxing space for customers to sit and enjoy their coffee and freshly baked goodies. We have tried most, if not all of them, and can say that you won't be disappointed. They also sell items from local vendors including cards, jewlery, and gifts.
Our town appreciates your business and hope you take advantage of all that Chesaning has to offer!