Moda's Stitch Pink

Starting Wednesday, October 1, Stitch Pink! Create a 60" X 72" quilt, one block at a time! Every day in October, there will be a new 12" block pattern and on October 31, the finishing instructions to put all together. We have kits for sale in our shop for $109.99 each. Two have been spoken for so far, so don't hesitate to claim yours! They will be available for pickup starting Wednesday, October 1 in the quilt shop, or we will mail to you!




Click on the Day/Block Name below for the instructions. Instructions for each new block will be available by 7 am EST each day.

CLICK HERE FOR FINISHING INSTRUCTIONS!


Day 1 - Underdog

Day 2 - On the Rise
Day 3 - Monkeying Around
Day 4 - Flower Power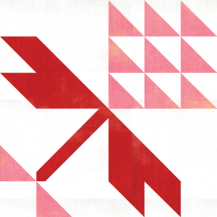 Day 5 - Best Friends
Day 6 - Baby Boom
Day 7 -
Jersey Girl
Day 8 - Fly Away Home
Day 9 -
Breaking Rules
Day 10 -
Helen
Day 11 -
Five and Nine
Day 12 -
House on the Hill
Day 13 -
Rock n Roll

Day 14 -
Along Comes Mary

Day 15 -
Tweet Tweet

Day 16 -
Call me a Diva

Day 17 -
Casablanca

Day 18 -
Catch a Falling Star

Day 19 -
Tropicana
Day 20 -
Blow Me a Kiss

Day 21 -
Celebrity

Day 22 -
Something Special

Day 23 -
Fixer Upper

Day 24 -
Pine Nut

Day 25 -
Underground

Day 26 -
City Girl

Day 27 -
Give Me Wings

Day 28 -
Groovy Granny

Day 29 -
Twinkle Twinkle

Day 30 -
Mother Hen